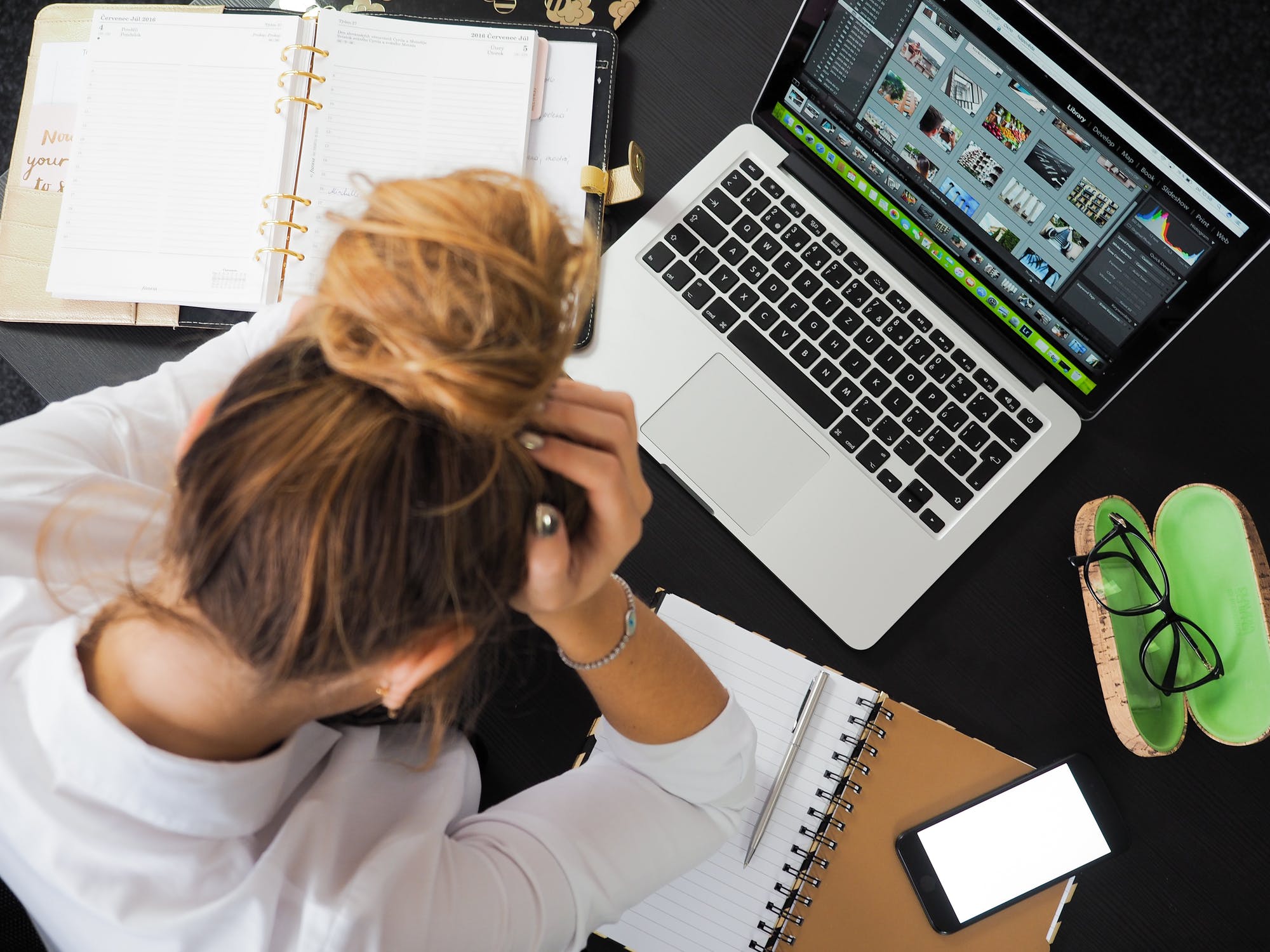 28 Oct

The Hope Of The Gospel For Our Stress At Work

Stressed. Tired. Exhausted. Anxious. 

America has been reckoning with the cost of hyperproductivity long before 2020. However, the myriad effects of the pandemic— job loss, fragile employment status, complications for working parents, and forced changes in nearly all industries—have only further exacerbated our problems with stress. In a survey conducted by a mental health provider, nearly 7 in 10 employees indicated that the pandemic is the most stressful time of their entire professional career. According to this same study, 88% of workers reported experiencing moderate to extreme stress over the past 4 to 6 weeks. At face value, the situation is bleak at best. 
However, as Christians, we know that our ultimate hope is found not in our circumstances but in Jesus Christ. Despite this truth, it can be difficult for Christians to apply this hope to their daily work.
How does God's redemption story for our work offer us a respite from the day-to-day grind that leaves us catching our breath? Beyond the cheap platitudes and bumper sticker slogans, what is the firm hope that the Gospel provides for our anxious hearts as we work in a broken world?
THREE TIMELY ENCOURAGEMENTS FROM SCRIPTURE
God has a better story for our work than the frantic busyness of the world around us. We find deep-seated comfort in the unchangeable truths of the Gospel. Here are three realities that offer us a rest in the thick of our weariness.
1) GOD USES OUR DIFFICULTY AT WORK TO TEACH US CHILD-LIKE DEPENDENCE ON HIM.
In God's original design for work, one of the primary ways we imitate our Creator is through our labor. While our work is now plagued by "thorns and thistles" (Genesis 3:18), these difficulties are the clay with which God forms us. Paul famously writes these words in 2 Corinthians 12:9-10: "But he said to me, 'My grace is sufficient for you, for my power is made perfect in weakness.' Therefore I will boast all the more gladly of my weaknesses, so that the power of Christ may rest upon me."
The great reversal in the last verse runs counter to how we often think in the Western world. We act so pain is to be avoided at all costs. Our tendency is to minimize what is hurting us without considering how it is forming us. However, as Paul explains, the pathway of discipleship runs through our day-to-day frustrations and failures, including at work, not around them.
What if we began to embrace this at work? How might we experience our jobs differently if we saw our stressful sales quotas, demanding deadlines, and even our failures as opportunities for God to teach us to depend solely on Him? While believing this won't make our stress immediately disappear, this perspective on our challenges will allow us to see the redemptive value of work even on our most difficult days. In moments of disorientation, our facades of self-sufficiency are torn down, and we come face-to-face with our child-like dependence on God. 
2) YOUR ULTIMATE VALUE IS NOT IN YOUR PRODUCTIVITY AT WORK BUT IN YOUR IDENTITY AS GOD'S BELOVED.
For many of us, the idea that work is done both with and for God may feel foreign when living in a Western culture that prizes individualism and self-sufficiency. It's no wonder that "stress" and "work" have become almost synonymous in our culture. When our schedule stares back at us in the morning, what do we need to be reminded of to find our strength in God? While producing excellent work is a way that we can honor God and love others, if this pursuit of excellence leads us to equate our worth with our output, we will be crushed under the weight of expectations we'll never fully live up to. It's not the desire for excellence that is the problem: it's our obsession with it. 
Rather than attempting to outwork the problem, we need a Gospel-centered way of approaching our work. By understanding that we are God's beloved, made in His image, we can stop the exhausting cycle of trying to prove ourselves through our work and instead find our deepest sense of value in the presence and love of God. We are called to work faithfully, not perfectly. Intentionally reminding ourselves of these realities—in other words, preaching the Gospel to ourselves—helps us step out from under the weight of our own expectations. When our heads are cast down, eyes focused on the tasks ahead of us, it is God who is the lifter of our head (Psalm 3:3).
3) THE END OF THE STORY IS REDEMPTION.
It can be exhausting to work in a broken world. The effects of the fall are not just individual but also systemic, and for many, we experience stress at work because of the growing list of wrongs that need to be made right. As Christians, we are not afforded the option of turning a blind eye to the brokenness. Whatever it is, we must acknowledge what is broken in our industry, who it affects, and how it affects them. 
Work, given how important it is, can feel overwhelming in the face of the fractured realities that we encounter. While the conviction to address brokenness is Biblical, believing it's all on our shoulders is not. What if we worked with a vision of eternity in mind? For Christians, this means that we can work knowing how the story ends. The ultimate end, or telos, of the world is in perfect harmony under the rule and reign of God. There is great encouragement to be found in knowing that all things will be made right as God's kingdom is realized, even as we lament that things are not yet this way and work to change that.
As Stephanie Summers explains, "Knowing what God intends as the end of the story means that every day we can trust God for the results of our work in a world marred by sin." God's story of redemption is being weaved every day through our daily work, and we are invited to participate in it, trusting in the end of the story rather than believing we have to achieve it on our own.
THREE QUESTIONS FOR SELF-REFLECTION
Our beliefs can either help alleviate or further exacerbate the stress we experience at work. Below are a few reflection questions to ask yourself to help ground you in truth in the moments you need to be reminded of it the most.
1. What am I feeling right now, and how can I offer these emotions to God in prayer
2. What am I believing right now, and how might my distorted beliefs be contributing to my stress?
3. What is true about myself, about my work, and about God in this moment?
Our deepest worries at work matter deeply to God. We can find comfort in a Savior who does not casually dismiss our fears or chide us for our anxieties. Instead, God's intimate response to our stress is that He promises to be with us in the midst of it. 
As A.W. Tozer writes, "God never hurries. There are no deadlines against which he must work. Only to know this is to quiet our spirits and relax our nerves." We are invited to find deep rest in our unhurried God as we work faithfully in the world.